Nashville Home Workshops
WE'RE UP AND RUNNING AGAIN!
Its been a tough time for all of us but we made it through. We're up and running again so BOOK YOUR STAY NOW!
Linda and James are opening the doors to their Tennessee home, inviting students to come study songwriting one-on-one with Linda and experience Nashville with Linda and James as your tour guides.
Testimonials: 
"Linda and James' workshop was simply wonderful and it took me on a journey that was replete with encouragement, and nurturing guidance, They set the tone for a safe environment in which to create. Linda and James' home is one filled with respect and a true interest in making the guest experience relaxing and fun. Thanks for the Nashville music scene tour, I also enjoyed that. I came as a student and left as a friend." Steve Kennedy, Ottawa musician and Songwriter Oct. 2022
"Just finished one of Linda and James' home based songwriting workshops in Nashville. It was a totally amazing experience at many levels. Whether you're just thinking of writing your first song or have a well established craft, these three days are going to be a great support to your musical journey.  Each experience is tailored to you and what you want to get out of it. Linda and James create a very safe and loving container to explore songwriting tools and also to guide you to people, music and venues in Nashville that only someone who lives and works there could know about. They are awesome hosts. I would do this again in a second." Ashanti Fraser, M.Ed., C.C.C., Rockglen, Saskatchewan
Included in your stay: 
Transportation to and from Nashville airport to our home

Three day four night stay 

3 hours per day one-on-one  instruction in songwriting and/or performance *see info below

Breakfast and Lunch provided

1 dinner at Loveless Cafe or equivalent Nashville live music venue 

One - 3 hour tour of downtown Nashville 

Accommodations: Private room with studio space for writing

*One on One Instructional Offerings: Choose from one of the following 2 streams or a combination of both. 

STREAM 1 - Songwriting With Intent: We are all connected but we are also uniquely individual and have our stories to tell. Let's explore ways to find your unique voice, mine those stories and tell them in a way that will have your listener think "Wow, that song is about me!" 

We will learn: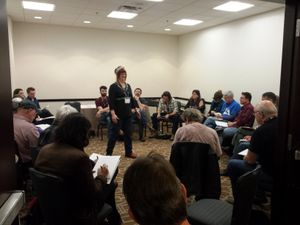 •    How to unblock creative flow. Writer's block? Bah Humbug.
•    Form: Do we need it? What is it for? What is a verse? Chorus? Bridge? •    Finish What You've Started. Should I keep trying or leave it behind?
•    Arrangement: "hooks", intros and outros, verse chorus order, solos
•    Prosody: the relationship between music and lyric
•    Co-writing, learn ways to create a successful co-writing session.

STREAM 2 - From Light Bulb Moment to Stage Lights!: I have been performing on stage for 30 years and it always amazes me how each performance can be so drastically different. Whether you're a seasoned pro or have never been on stage before, we'll take some time to help you feel comfortable and connect with your audience. 

We will learn:
•    Vocal techniques. We'll explore ways to strengthen your singing voice, get "inside" the song and help take your listener on a journey.
•    Practice Time: How to organize your time.
•    Stage Presence: What is your style? What type of emotion are you trying to put across?
•    Organizing your set, key, tempo, content.
•    Mistakes and how to deal with them.
•    Performance Tips: mic technique, overcoming stage fright, audience communication. 

 
Pricing:
1 Person: $2000 USD for 3 days/4 nights. If you wish to bring spouse or partner $2500.
2 Co-writers: $1200 each. All above amenities included.
Funding Options for Canadian Songwriters:
We are thrilled to let you know there are two sources Canadian artists can apply for funding to attend our workshop:
The Socan Foundation: https://www.socanfoundation.ca/grants/    
Canada Council For the Arts: http://canadacouncil.ca/funding/grants/explore-and-create/professional-development-for-artists
FYI This does not guarantee your application will be successful but I am happy to help with suggestions and editing, etc.
Particulars:
1. $500 USD Non-refundable deposit upon scheduling. 
2. We reserve the right to cancel within 30 days. In that case deposit will be refunded. 
3. Additional venue, attraction, tour fees, etc. not included.  
4. Nashville's public transportation is virtually nil. As we live in a small town neighbourhood 20 minutes from downtown Nashville, a rental car is recommended if you wish to do more sight-seeing. 
5. Loveless Cafe or equivalent dinner does not include alcohol.
5. We have a 2 year old Boxer/GoldenDoodle named Spike. If you have a dog you're welcome to bring him or her. We have a fenced backyard.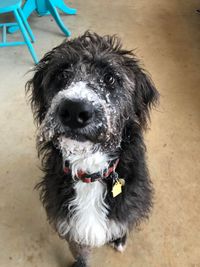 For availability please see the calendar below and to book with us please email 42management@gmail.com.

Thanks!
Linda and James
PERSONAL CONDUCT
Nashville Home Workshops offer a comfortable, safe, funky space in which to create. We expect all guests to take responsibility for themselves and their personal belongings. We will not be held responsible for loss or damage to any personal property. Students or guests engaging in behaviour that puts themselves or anyone else at risk of danger will be asked to leave without a refund. We do not advocate or encourage the abuse of alcoholic beverages, especially as James is celebrating his 30th sobriety birthday this year. We just ask that you please drink responsibly and with moderation. We do not, under any circumstances, accept responsibility for any damages that result to yourself or anyone else due to the consumption of alcoholic beverages. Illegal drugs and firearms are strictly prohibited. Anyone found in possession of any of the aforementioned items will be asked to leave without a refund. 
TAPING/RECORDING
Students are encouraged to record their class time with Linda for personal use only. You are asked not to share any of these videos/recordings with anyone or post on social media without Linda's permission.